Auschwitz
Auschwitz in Polish language
Names of concentration camps in Polish
The names Auschwitz, Birkenau and Monowitz are the German equivalents of the Polish names Oświęcim, Brzezinka and Monowice, used after the German aggression on Poland in 1939 and the annexation of these lands by the Third Reich .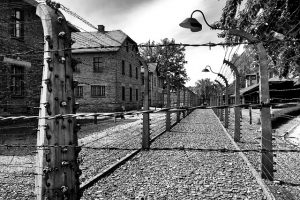 Name Auschwitz in Polish language
Hitler's Auschwitz decree of October 8, 1939, was incorporated into the Third Reich and was within the so-called Great Germany, in the Bielsko poviat (Landkreis Bielitz) of the Katowice province (Regierungsbezirk Kattowitz) of the province of Upper Silesia (Provinz Oberschlesien).
Read also:
In 1940, in these areas, the German authorities set up a camp. The camps had been initially intended to settle political prisoners and opposition, mainly Poles.
It was then gradually expanded into the main place of mass extermination of about 1.1 million Jews from all over Europe, as well as 140-150,000 Poles, about 23,000 Roma and about 12,000 Soviet prisoners of war and victims of other nationalities.